Quality Security Solutions for Melbourne Homes and Businesses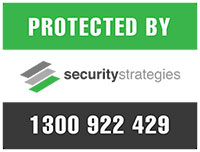 Security Strategies was established in 2009 by electrotechnology technician Steve Knight, a qualified security professional with over 12 years experience in the security industry.
Based in Melbourne's eastern suburbs, Security Strategies installs, services, repairs and maintains electronic security solutions for industrial, commercial and domestic clients across Melbourne.
Steve created Security Strategies after seeing a general lack of care in the security industry with prices determining equipment rather than quality products suited to the client's needs. He often saw clients left with outdated and unstable equipment not fit for the task. These systems often failed within in the first year, or never worked satisfactorily to begin with.
With attention to detail and a genuine concern for the customer, Security Strategies first of all listens to its customers and their needs, then implements quality equipment fit for the task.
We guarantee a system that works seamlessly first time, every time.
Steve Knight, Managing Director
Credentials include:
$20 Million Public Liability Insurance
Private Security License (including Security Advisor and Security Equipment Installer)
Certificate III in Electrotechnology Building Services
ACMA Telecommunications Open Cabling License (including Structured and Coax Cabling Endorsements)
Work Cover / Work Safe – Red / White Card (OH&S Construction Induction)
Work Cover / Work Safe – EWP Ticket
Advanced Diploma in Computer Systems Engineering
Certificate of Completion of Cisco IT Essentials: PC Hardware & Software
Victorian DOJ – Working With Children Check
Inner Range Concept Certified Technician
Inner Range Integriti Certified Technician
Bronze Member of The Australian Security Industry Association Ltd (ASIAL).
Security Licence: 719-113-40S
Open Cabling Registration: S27358
ABN: 15 064 229 549
New Work Vehicle
Security Strategies is excited to release another vehicle onto the road for service & installations. Keep an eye out for the new Vito! It is sure to assist with the ease of completing a quality install having ample room in the rear of the vehicle.